IF YOU'RE ANYTHING LIKE ME, YOU JUST WANT A CUSTOMIZABLE SYSTEM THAT MAKES YOUR JOB PART OF YOUR LIFE AND NOT THE OTHER WAY AROUND.
Systems that worked in the past don't work the same now for one simple reason: it's nearly impossible to teach today's Generation Z the same way as past generations.
Think about it. They were all born post 9/11. The internet has never been a novelty to them and smartphones were never the "new" thing. Their brains are legitimately wired differently than those who had to wait in their lives for those luxuries. They believe in instant gratification and if it's not of interest to them, they quickly move on to the next thing that is.
If you spend more time than you care to admit wanting to pull your hair out with these kids, you're not alone.
Being trained to teach and actually doing it are two very different things. Throw in a generation that is learning differently than any other generation before them and jobs that once filled educators with passion and determination are sending them home exhausted and downtrodden at night.
It DOESN'T have to be that way. That's why we're here to help.
"A Passion for Progress" helps teachers come up with a plan for their own student engagement formula, leading to reduced teacher stress, reclaimed teacher time, and increased student success.


It plans along
with the teacher
on all aspects of teaching execution from lesson plan objectives to classroom design.


This isn't a theoretical training
...it allows the teacher to actively plan their lesson (or unit) as they work through the course, having a prepared plan to implement as soon as they finish.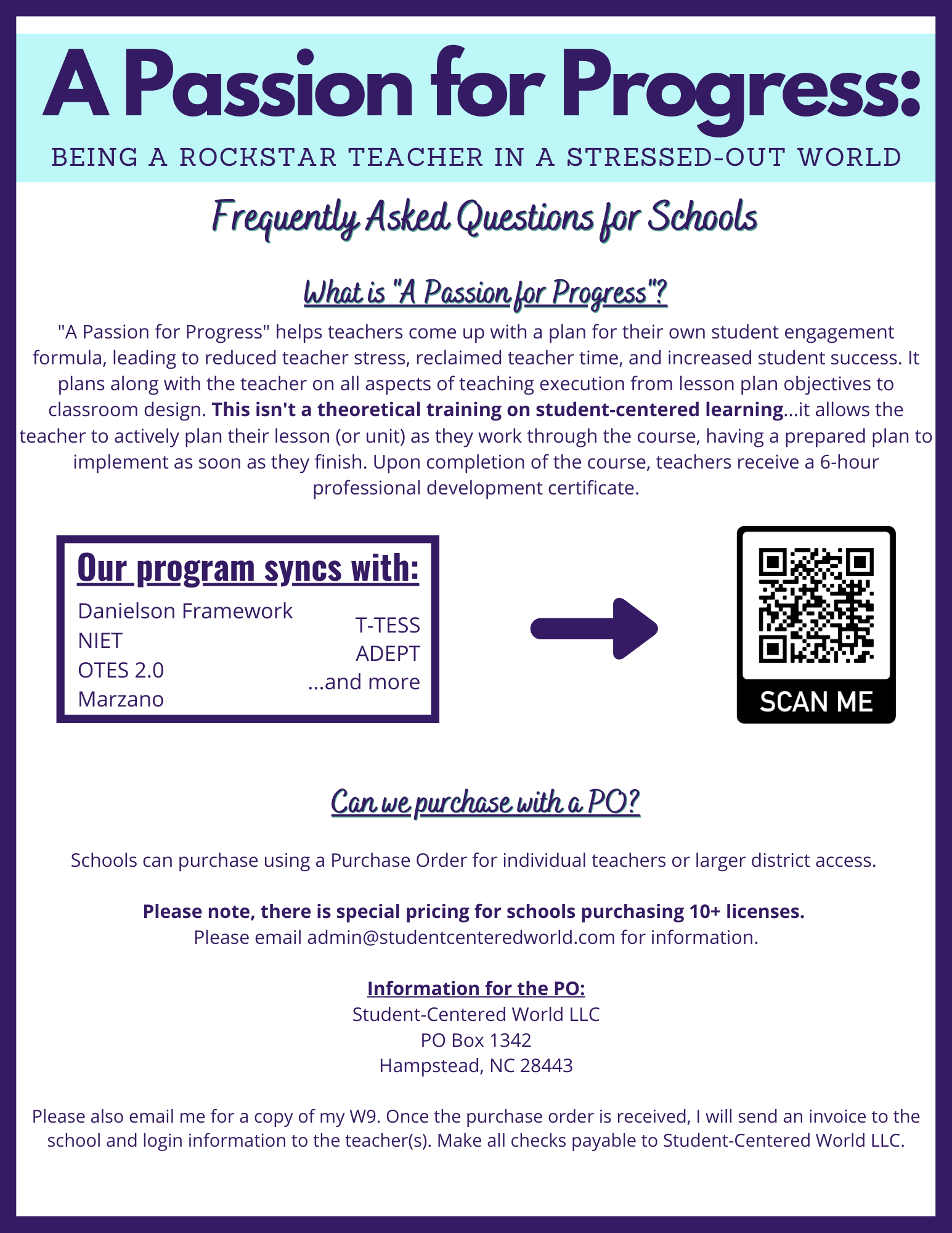 Are You a School District?
Enrollment is always open for school licenses. Email [email protected] for more information.


We Align with Observation Rubrics!
Interested to see what "A Passion for Progress" can do for your teacher observation?
Click here to read the parallels between the program and your school rubric.

Liquid syntax error: Unknown tag 'block'